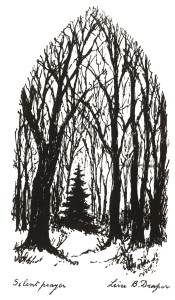 Line Bloom Draper studied at The Academie des Arts Decoratifs of Verviers and the Academie des Beaux Arts in Tournai, Belgium, in USA: Bowling Green State University and Skowhegan School of Art, Maine. She worked and received awards in an unusually varied number of media: oil, water color, pastel, casein, acrylic, intaglio and relief printmaking, illuminated calligraphy and enameling.
During her residence in Toledo, Ohio, as a veteran of One Artist Shows, State and National Art Competitions, she had a consistent record of awards and recognitions. Amongst these are: Toledo Museum of Art Annual Area Show: (1955) Best Toledo Scene, (1957) Best Architectural, (1958) Best Academic, (1960) Park Lane Award; National Bank Show (1960-64-66-67-70); Midwest Tri-Show (1954-60-62-66-68-70); Defiance College: Five Women in Art (1969), American Artists National (1970); Scholarships Awards; Toledo Museum of Art, Gallery 8; Once Artist Show.
Her work was also included in several Traveling Exhibitions circulating through the USA, including National Casein, National Water Color Society, Printmaking National, and American Artists Association'
She is the only person to be twice selected as recipient of the Honor Award by the Toledo Federation of Art Societies for outstanding contributions to art and fostering art activities in the community (1964 & 1966).
Founder of Spectrum, Friends of Fine Arts in 1978, she was presented The Distinguished Honor Award. She was also honored with TAC and Athena Art Society for Leadership, Excellence in Art and Achievement in raising artistic endeavors in the Toledo area.
Thanks for stopping by. Merry Christmas!
Bill Klatt